Mono InkJet Multifunction
An Introduction to Mono Inkjet Multifunction Printers
With black and white printing facilities, mono inkjet multifunction printers are usually considerably cheaper than their colour equals. Often capable of impressive print speeds, and featuring an array of valuable features, including print, scan, copy and fax capabilities, these machines are an excellent addition to your office system.
Finding the perfect Mono Inkjet Multifunction with Printerbase
At Printerbase, we understand the importance of finding the perfect machine to suit your own personal needs. That's why we stock such a great range of devices. From smaller, sleeker designs – ideal for a small home business, to bigger machines designed with larger offices in mind, we've got something to suit everyone.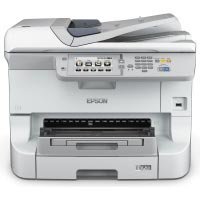 A4 Mono InkJet Multifunction
An Introduction to A4 Mono Inkjet Multifunction Printers
With a vast... £300.11
ex VAT
£360.13
inc VAT £310.74
ex VAT
£372.89
inc VAT