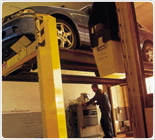 Choosing the right Dot matrix printer
A dot matrix printer has a print head that runs back and forth, or in an up and down motion on the page and prints by impact, striking an ink-soaked cloth ribbon against the paper, much like a traditional typewriter.
Dot matrix printers are the ideal form printing solution. 9 pin printers offer speed and 24 pin versions provide improved character quality. With more pins in the print head, you get a higher resolution which means better quality print.
All orders are delivered next day* for FREE.